While I enjoy a poem every now and then, I'm not the biggest iambic pentameter fan. But as always, technology's here to the rescue. This time, an AI generator rescues struggling poets and makes their poems sound "classical."
Google's Verse by Verse tool helps rhythmically- and lyrically-inept writers craft a poem by taking cues from renowned wordsmiths. According to engineer Dave Uthus, the system has a general understanding of what lines would work best with the previous verses. "Even if you write on topics not commonly seen in classic poetry, the system will try its best to make suggestions that are relevant," he writes.
The site lets you choose up to three poets, including literature class faves Edgar Allan Poe, Emily Dickinson, Walt Whitman and Robert Frost. You can then customize your poem's structure by selecting its form (quatrain, couplet or free verse), syllable count, and rhyming scheme.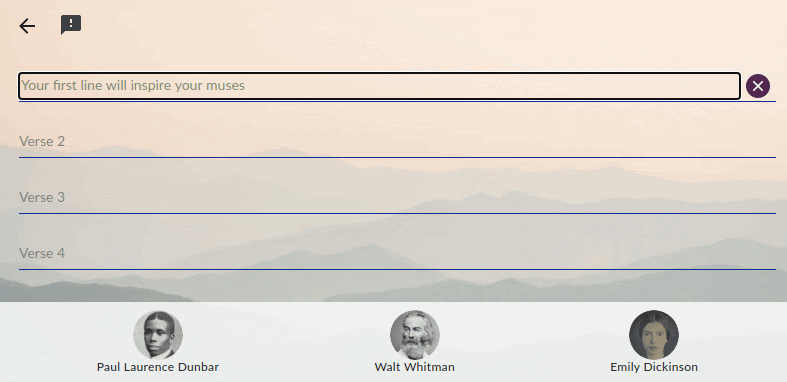 Once you've done all that, the tool will then ask you to fill up your first line of verse. I, for one, can't think of anyone else who can match the lyrical prowess of Dickinson et. al other than the poets of our times: the pop lyricists.
So, for this experiment, I fed it lyrics from 2021's Grammy-snubbed™ albums, and chose to get help from Romanticists Emily Dickinson, Edgar Allan Poe and Walt Whitman. Just because.
"I said, ooh, I'm blinded by the lights"
"Blinding Lights" by The Weeknd from "After Hours"
Quatrain, free syllable, ABAB rhyming scheme
"I said, ooh, I'm blinded by the lights
Struck at the dull light of my sight
And the beauty was not fright
Sweet was she of hours at night.
She had as doth the light as dew
Softer than light, yet such as mine:
Before thy moon was blue,
Hint has the same realms of wine."
"Unwrap sour candy, come, come, unwrap me"
"Sour Candy" by Lady Gaga feat. Blackpink from "Chromatica"
Free verse
"Unwrap sour candy, come, come, unwrap me
Kiss me with cheeks of a young woman;
Open my mouth for my love!
Give me the sigh of an angel:
Hold her bright wing, and shake her wing."
"Akasaka sad, I guess I'll be sad"
"Akasaka sad" by Rina Sawayama from "Sawayama"
Couplet, free syllable
"Akasaka sad, I guess I'll be sad
Too fair, so honest to be had!
She seemed to dream my day flower—
My breast would weigh the summer in that hour!
Around my forehead I perceived the moon
Laid forgot in death without the light at noon."
"Who can deny this perfect symmetry?"
"What's Your Pleasure?" by Jessie Ware from "What's Your Pleasure?"
Quatrain, 10 syllables, ABAB rhyming scheme
"Who can deny this perfect symmetry?
Drawn by the light without a single star?
Could never show the furthest destiny
So fierce I pass! so curious you are!
Making me fear at my eternal dreams!
Across the sunrise I perceived them near,
As from an unseen landscape and the dream,
Comes from a call after the unknown sphere."
I don't know about you, but I'm waiting for my Pulitzer Prize any day now. Head over to Verse by Verse to create your own disastrous poem too.
Read more:
Lana Del Rey shares haikus from her upcoming poetry book
New character unlocked: Enchong Dee reading Bikol poetry
The (possible) future of Filipino lit: AI-made children's book covers
Art by Yel Sayo
Comments