It's been almost three years since One Direction—the only band to successfully rival world records set by The Beatles—announced their disbandment. And so began the end of an era and their reign as boy band royalty. While we know that all five members have had no problems forging their own paths and having thriving solo careers,  we can't help but keep a sliver of hope at the back of our heads that Harry, Zayn, Niall, Louis, and Liam would eventually find their way back to each other again. But with each passing day, that possibility seems to go farther and farther out of reach.
While the band remains on "hiatus," we've got that one thing (get it?) we can do to show our love. Although they're headed in different directions, this shouldn't stop us from supporting them as individual artists. Since they broke into the scene during their X-Factor days, all five members have always had their own unique and distinct styles that separate them from each other. So if you put it that way, their will to define themselves outside One Direction isn't so bad. 
Just recently, Manila fans had the privilege of getting up close and personal with Harry as he performed for local fans. The incredible reception and equally astounding support he received tells us he's doing just fine. So how exactly are he and the rest of the boys holding up? 
Harry Styles
During his concert at the Mall of Asia Arena last Tuesday, Filipino fans were treated with a brief, blissful moment of nostalgia as he performed a few One Direction songs (solo versions, but let's spare the waterworks and not go there). Fans were put on an emotional roller coaster ride, hearing old tracks like "If I Could Fly," "Stockholm Syndrome," and of course—"What Makes You Beautiful." But above everything, his remarkable performance only affirmed his astonishing character development as an artist of his own name.
Manila, Live On Tour. pic.twitter.com/oE8W8H4oHV

— Harry Styles. (@Harry_Styles) May 2, 2018
In One Direction, Harry was often made lead singer due to his astounding vocal chops. But his self-titled debut album was the beginning of his evolution from "boy band member" to bonafide rock star. Comparing his own songs to his One Direction hits, it's clear he took a bolder approach. The overall sound direction and more emblematic lyricism show that he is drawing inspiration from a different place—one that goes beyond girls and the vapid need to "live while we're young." And for that, the fans could only love him more, as they catapulted "Sign of the Times" and "Sweet Creature" to the top of the Billboard Charts. 
But his streak doesn't end there—Harry is also making his name outside of music. Following the footsteps of musicians-turned-actors ,such as Justin Timberlake and Jennifer Lopez, he had one hell of a Hollywood debut, already working with film legends such as Christopher Nolan and Tom Hardy in Dunkirk. 
Zayn Malik
Zayn was the first member to singlehandedly break the hearts of millions of people worldwide when he left the band in 2015. Sadly, Filipino fans weren't lucky enough to catch him when One Direction came here for their show. His absence during the performance triggered speculations of his eventual departure from the band, which no Directioner anywhere in the world was prepared for. Though he never truly addressed his reasons for leaving, fans could see that he wasn't too happy during his twilight years with the group. The most he said was it was because of stress and wanting to go back home and live a normal life (yeah, Zayn, we totally believe you).
It wasn't long before he silenced the rumor mills, as he released "Mind of Mine," which became an instant hit as it went full force on RnB and sex appeal. He has since reaped the fruits of his success, with even more chart-topping hits, such as the airwave-dominating "Pillowtalk," "I Don't Wanna Live Forever," and his most recent, "Let Me."
Outside of music, Zayn has also started his stint as a model. He currently has a partnership with Penshoppe and is currently an ambassador of the brand.
Louis Tomlinson
Louis and Liam are the only members who have yet to release an album. But the difference between the pair is that Louis has already announced that he has an upcoming album and it may arrive sooner than we expect. He claims that he has spent the past two years working on it which can be seen in a Tweet he posted last April. Although no release date has been said, he tells fans to be patient because he wants everything to be perfect before its launch.
Can't wait for the day to finally release this album. It's all I've been working towards over the last two years.

— Louis Tomlinson (@Louis_Tomlinson) April 3, 2018
Previously mentioned, members such as Harry and Zayn have already made their mark in their own genres and have raised the bar high for the expectations and performance of the other band members. This shouldn't be a problem for Louis because he's already made his mark on Billboard's Hot 100 with his single, "Back to You" featuring Bebe Rexha and "Digital Farm Animals" peaking at #40. By collaborating with Steve Aoki for his debut single, "Just Hold On," it's clear that Louis is leaning towards the more electronic genre.
Liam Payne
Liam may not have announced anything about an upcoming album but we can say that his music career is off to a great start. He's partnered up with the likes of Juicy J and Wiz Khalifa and has been featured on their track "You." His sound leans toward hip hop, with his biggest hit "Strip That Down" featuring Quavo.
Niall Horan
Harry isn't the only one with a concert coming up, that's why we left Niall as the last band member to be featured. With a show once again in the Mall of Asia Arena, Niall will pick up where Harry left off with a concert in June. According to his set-list from his recently concluded concerts, its highly likely that we will also hear him sing One Direction songs.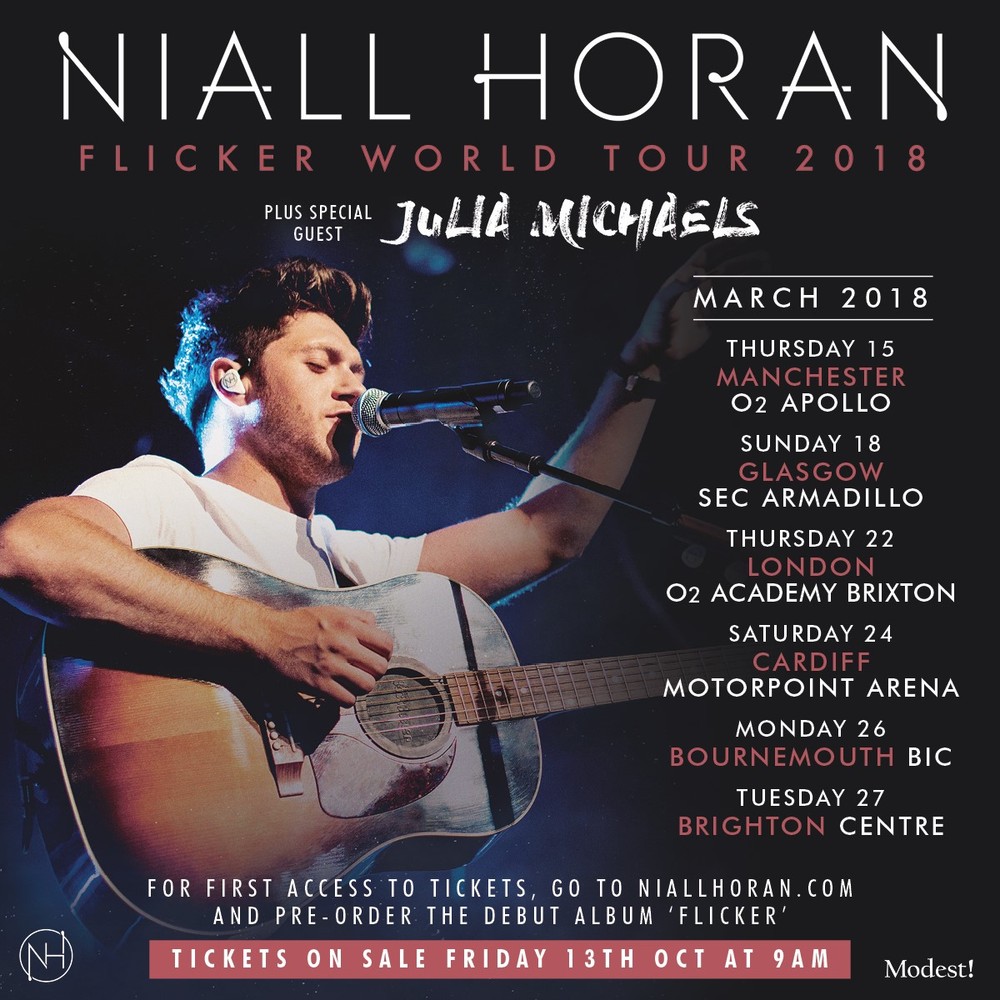 Compared to Harry's rock star appeal or Louis' EDM craze, Niall's sound is more in the acoustic area. He is often compared to singers from the same genre such as Ed Sheeran. His album, Flicker, is a tear-jerker from near start to finish.
It's good to see the boys doing well in both their own careers and personal lives. Although, there is news circulating that they are planning to reunite sometime soon. Liam definitely took a step in the right direction, hinting that One Direction is planning a dream comeback show. With that, we're keeping our fingers crossed.
---
Words by Gab Garcia
Cover Photo (Harry Styles, Liam Payne, Louis Tomlinson, Niall Horan and Zayn Malik of One Direction) by Terence Patrick/CBS | Theo Wargo/Getty Images | Kevin Winter/Getty Images | C Flanigan/FilmMagic | C Flanigan/FilmMagic from LA Times
Comments