Last night, James Reid–a remarkable name which needs no introduction–won 4 awards in the annual Myx Music Awards. Today, we give credit where it's due and we break down the rise and redefinition of James as an artist.
Humble Start of a Storming Career
James Reid was only 17 when he won the hearts of many Filipinos in reality TV Show, Pinoy Big Brother: Teen Clash 2010. "He was a boy from Australia and an excellent dancer," is what people from the late 2000's would say. While shows love to establish catchy characterizations, perhaps the cool persona James exudes goes beyond stereotypes and foreseeably captured the hearts of fans–both the hormone-oozing teenagers and the chin-up, chest-out adults.
Quickly after bagging the prize, Reid hopped into the inevitability of starting his acting and singing careers. Paired with co-housemate Devon in Shoutout and Good Vibes, he signed a 2-year contract with Star Magic. Alongside is a music project with good friend Bret Jackson (who also entered local R&B as 'King Waw'), entitled We Are Whatever. The launch of this EP may mark his early days in the music industry, but it certainly does not steer close to his modern sound.
In 2012, Reid transitioned to Viva Artists Regency–a move rendered unregrettable as this spearheaded a blooming career, and an on-going out-of-screen love story. After launching his self-titled album, Reid starred in Wattpad-adapted screenplay "Diary ng Pangit" along with Nadine Lustre–a damsel but not in distress, and a woman of her own. The duo's charismatic synergy captivated viewers almost immediately, as if it were fate, except the human efforts of these two well-deservingly paid off.
Passion, Vision, and Transition
James always had music running through his DNA, making it easy for the prettyboy to transition into an official recording artist. Initially rising as a dancer and poised to pursue a career in acting, James' passion for music showed evident so it didn't take long for the star to discover his own rhythm.
During his earlier days, James was known to have a pop sound, which served complimentary to the audience of his films. The soundtrack of the previously mentioned film, "No Erase" is an example. His previous hits such as "Hanap-Hanap," "Randomantic," and "Bahala Na" are characterized with catchy easy-going tunes whose melody is considerably, without sweat, enjoyable. However, given the long track record of the entertainment industry's celebrities-turned-musicians, people have been expected to produce pabebe or hugot songs, until they sing renditions of Filipino classics until it gets old. This wasn't the case for James.
"Building the courage to go against this tide of expectancy, James dared establish his own sound."
Building the courage to go against this tide of expectancy, James dared establish his own sound. His first album under his own record label, Palm Dreams, was James' rebirth as an artist and signaled the start of his true breakout as one of the industry's biggest names.
Establishing his own record label, Careless Music Manila, James caught us all off-guard when he released Palm Dreams back in July 2017. The album emphasized James' evolution as all his tracks had a mix of Hip-hop and R&B, the type of sound you would hear from artists such as Bryson Tiller. Analyzing the album aesthetically, the artwork was also a feast for the eyes with jaw-dropping visuals and trippy design. This album was also a big step for the industry as James collaborated with fellow artists such as Sam Concepcion, Kiana Valenciano, & Bret Jackson, showcasing the skill and potential of this generation's music scene. On top of that, this is an undeniable treat for Jadine fans as most of James' music videos and songs were centered around the talented lady.
After being lowkey for a year with no releases but a music video, fans couldn't stop craving for more tracks. For his birthday last Friday (May 11), James celebrated early by breaking his silence with a new track. After raising expectations from Palm Dreams, "16B" was a hot track and it definitely did not disappoint. He also stated that this new track was inspired by a friend and that "16B" is a place that even the most fiery of souls can get lost in the pretty lights.
Listen to the track here:
Current Recognition, and The Future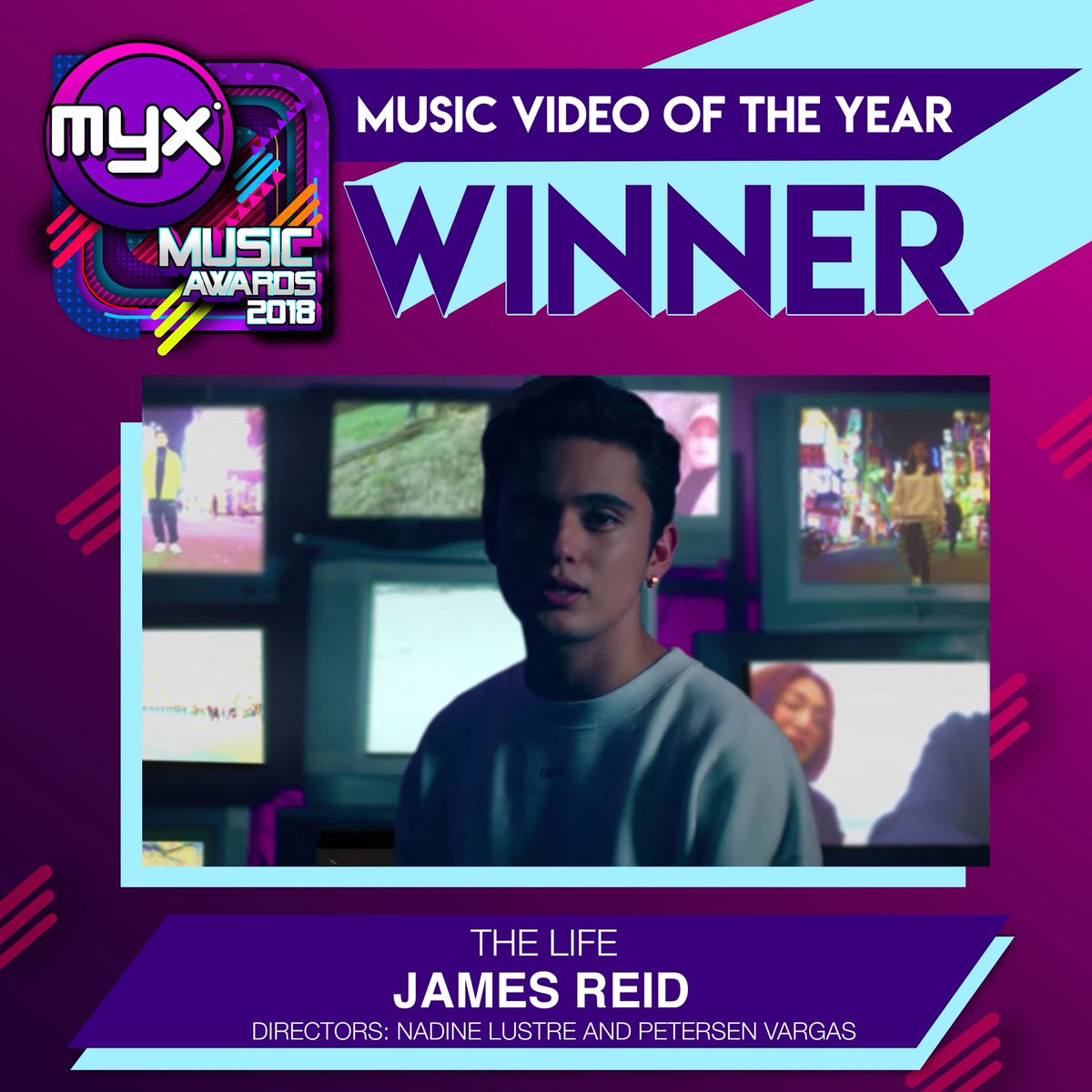 Yesterday (May 15), Myx Philippines conducted their annual Myx Music Awards at the Araneta Coliseum. On a gathering of some of today's biggest names in the local music scene, fans were graced to have witnessed both veterans and prodigies of the industry share the stage. Ending the night with the most number of awards was no other than our boy James. The list of his awards go as follows:
Song of the Year: "Cool Down" by James Reid

Male Artist of the Year: James Reid

Music video of the Year: "The Life" by James Reid
Artist of the Year: James Reid
Nadine Lustre also bagged an award, "Music Video Guest Appearance of the Year" in "The Life" by James Reid. Reid left our jaws dropped and we got to give credit where it's due. More than deserving of all the awards he got, his evolution through his album was a big step for an artist and we believe he is headed towards a greater path in the local music scene. Perhaps this sparks a message that following the road less taken inhibits inspiration which paves way to something legendary. Today, he acknowledged his accomplishments humbly on Twitter.
Thank you @MYXphilippines and all who voted for believing in my talent and recognising all the hard work and dedication that went into my music and for supporting my creativity and vision! ❤️

— James Reid (@tellemjaye) May 16, 2018
Although the spotlight for this year's music awards was mostly on him, the future looks bright with more artists and bands aiming to blaze a trail the same way he did.
Images by Andrei Suleik, Inquirer Bandera, Inquirer.NET, and James Reid's Instagram.
Comments