It's 2016 and some old, outdated beliefs are starting to go out the window, but there are still some people and some places that have a hard time letting go of the ideals they grew up with. That's normal and all, because nobody ever said change happened overnight, but every now and then there pop up some incidents and examples that are so, so bad.
Like this particular college in Cagayan de Oro City. Golden Heritage Polytechnic College is forbidding student romances because, well, here: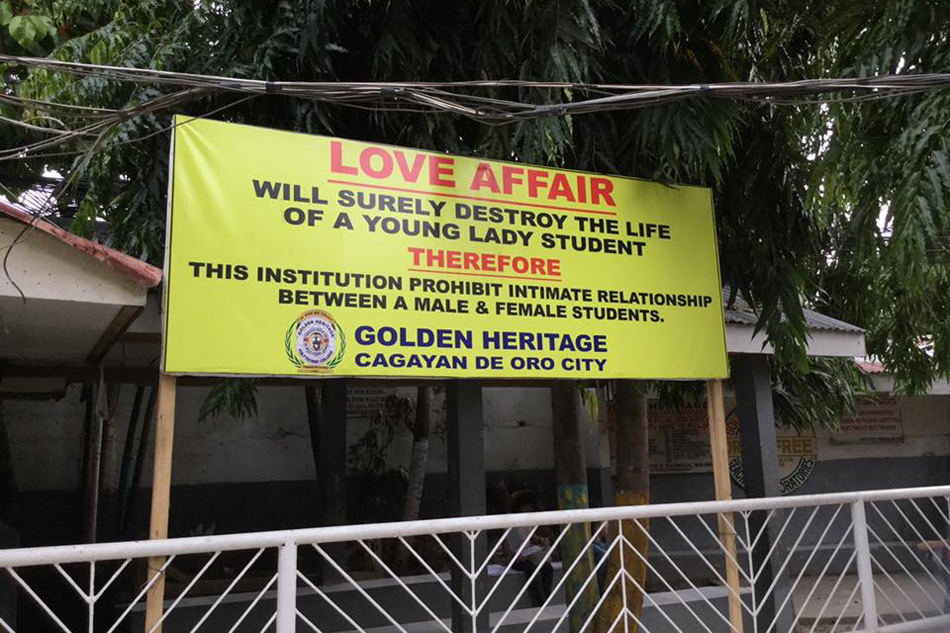 Man. This is so wrong, and we're already not gonna say anything about the grammar.
Why is it easier to ban all love affairs (regardless of what level of intimacy they even reach) than it is to teach kids to practice safe sex? Why does the woman lose, even though ideally, the man is also just as responsible if something goes wrong? (Insert perfunctory joke about love ruining the lives of all genders here.) And why should someone getting pregnant automatically ruin the lives of the would-be parents? The school's president just wants to see students finish college, but isn't it counterproductive to expel them should they actually fall in love?
And to think this is happening in college, when you'd expect a private elementary or high school to impose such a backwards-ass rule. Private institutions can technically put up any rule they want, but this is ridiculous. If you're from CDO and you've got other choices for tertiary education, you're better off taking them, for real.
Photo from ABS-CBN News
Comments