Social media has become a warzone for political mudslinging this election season. One look at our individual Twitter history reveals where we stand—why is the Marcos name resounding in 2016? For one thing, it's because it's election time yet again, and the Vice Presidential race is close.
I saw a tweet yesterday saying: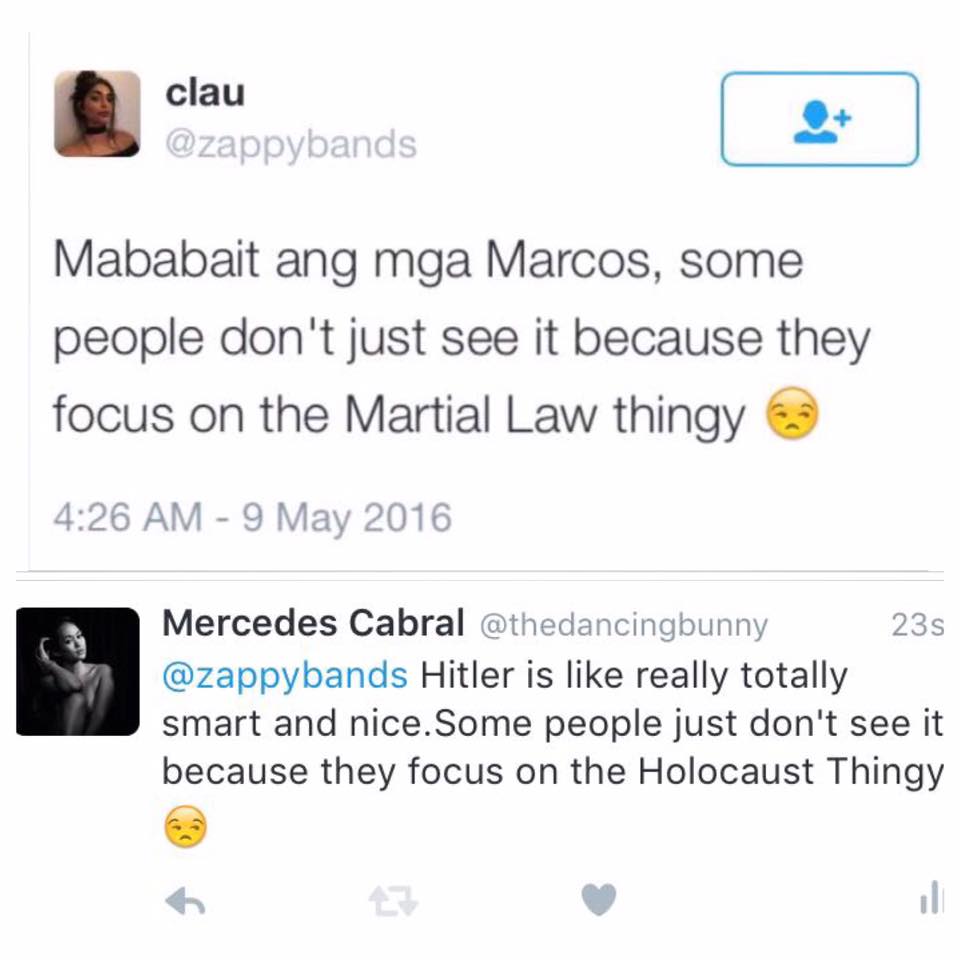 Mababait ang mga Marcos. Some people just don't see it because of the Martial Law thingy. Thingy. Thingy.
If there's any place that sentiment might have come from, it could be Bongbong's son, Sandro, who got drawn into the spotlight alongside relatives (mostly young scions) of other political bets. Photos of him rack up to 100,000 likes on Facebook, and his Twitter followers more than that. Comments on each photo range from requests to notice them or tags to other friends, calling Sandro "bes" or "beh" or "bae." People are enamored with the dude.
Checking Sandro Marcos's social media pages reveals the reason why Sandro Marcos is so popular—he's a millennial like us. He's human. One look at his Instagram account reveals candid photos of him with family. His grandmother, Imelda Marcos, captured in a snap with the caption "Grandmother startin' the party." There's also a photo of his father Bongbong napping, mouth agape, and him beside him beaming a smile. He's charismatic. His Facebook posts on his public page are eloquent.
He DJs, he goes to clubs and bars (we share a favorite in Finders Keepers), and he likes EDM. There are photos of him with famous music producers and DJs. He's ridiculously cool, I suppose we can agree. He's cooler than me, and I, admittedly, am a bit jealous. Here stands a pogi rich boy that speaks good English and dresses nice, enjoying the time out of his young life. Everything he is, with a dash of frustration toward the government that's on its way out, is the reason why a very specific demographic loves him.
We have forgotten that in our humanity, we are capable of doing both good and evil. Evil may come in the form of slick haircuts and neat neckties, rather than wrinkly clothes and bloodshot eyes.
So what wrong has Sandro done? For supporting his father I could not fault him. I would probably do the same thing to show love for my father.
But the Marcos name, like many names in our history, is heavy with questions and short of answers, and what Sandro could have done is to be sensitive to these controversies. He's a person in a high place, and in a perfect world he could do something to provide an answer. An apology is a godsend. An acknowledgement is much-needed. But silence? Nobody needs silence. Especially the heavy, guilty kind.
Media—from the teleseryes we watch down to the stories we read online has changed our worldview—one way or another. It's time to think critically instead of relying on whose voice is the loudest, which hashtag has the most tweets, and whose face is most handsome. And there are many, many voices, airing out different opinions and different dimensions to a troubled history. But the hashtags, no matter how many times used, don't solidify opinions.
Frankly, I like all the noise and the political hubbub. What I'm worried about is the quiet that comes after when it's time to put our phones down and go to sleep. What happens the next day? And the next? What will we think about when the buzz has settled and we're all to ourselves?
Let me be clear: the atrocities that happened during the Marcos regime aren't just a result of beef between the Marcoses and the Aquinos but an issue of human rights. If you don't find the historical data in the pages of your books in school truthful, then you will find it in the faces of those who have survived the torture, of those who have lived in the immediate wake of plunder, of those who have lost loved ones turned desaparecidos.
But if you just prefer to look at the bright face of a Sandro Marcos and stay there, or if you simply believe that 1972-1986 was truly an innocuous time, if you force yourself to look beyond the lives of those who have lost, I have nothing more to say to you. Just know that you are in the wrong side of history. Bathe in the presence of your Teen King; you've willingly become subservient anyway.
Photo from Bandera
Comments