The conceptual artist Christo has finally walked on water. His most recent environmental installation entitled "Floating Piers" allows visitors to walk over the surface of Lake Iseo in Italy aided only by a layer of shimmering yellow fabric. The installation runs for around 2 miles from the village of Sulzano to Monte Isola and ends in the island of San Paolo.
In his official website, the 81-year-old artist mentioned that the "Floating Piers" is open 24 hours a day and is open to everyone. "There are no tickets, no openings, no reservations and no owners. The Floating Piers are an extension of the street and [it belongs] to everyone."
The 16 meter wide walkway is kept afloat by almost 220,000 high-density polyethylene cubes and its water resistant fabric was crafted by a German company just for this project. The fabric changes color depending on the time of the day and at times the bright yellow fabric will show shades of gold or red.
This project was thought of in 1970 when Christo and his wife and artistic partner, Jeanne-Claude began doing large-scale environmental installations. It is Christo's first large-scale installation since "The Gates" in 2005, where a total of 7,503 saffron colored gates were erected in walkways in Central Park, New York.  It is also his first large-scale installation since his wife passed in 2009. As with all his work, Christo mentions that this installation can only be experienced for a short period of time.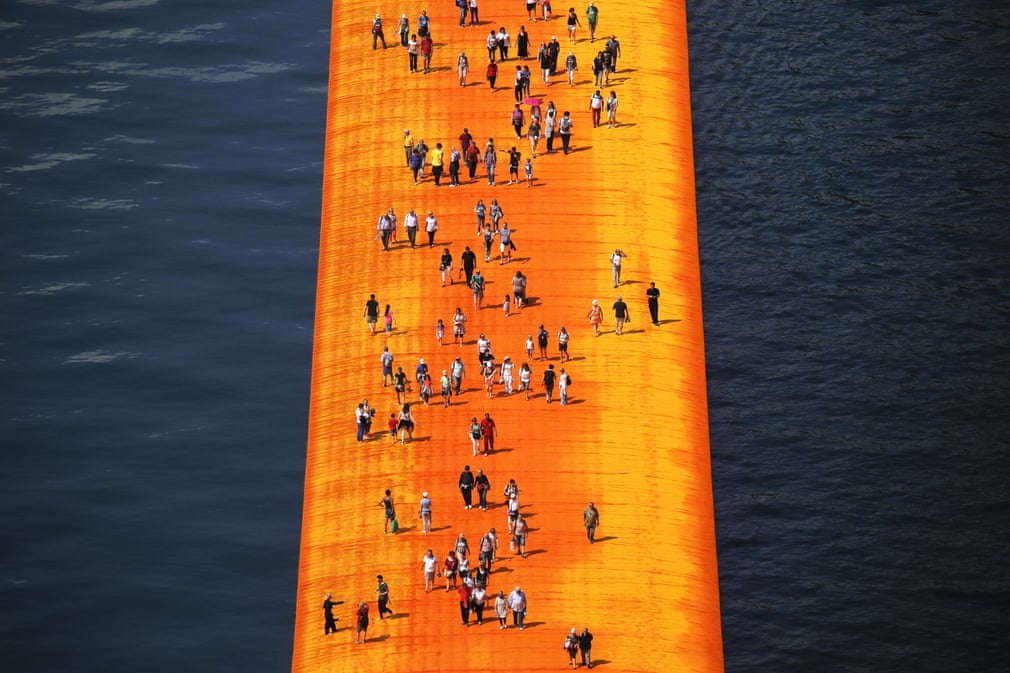 In the book Living With Art by Author Mark Getlein, Christo explains why this is his artistic decision. "Do you know that I don't have any artworks that exist? They all go away when they're finished. Only the preparatory drawings, and collages are left, giving my works an almost legendary character. I think it takes much greater courage to create things to be gone than to create things that will remain."
"The Floating Piers" will be open to the public between June 18 and July 3, after which all the materials will be removed and recycled.
---
By Nico Pascual
Images: Time, Today.com and The Guardian
[christojeanneclaude.net]
[wikipedia.org]
Comments