"If it ain't broke, don't fix it," so goes the old adage. But this amateur Spanish artist who hasn't done art restoration for squat decided to give it a whirl. Her pet project, not much but the 15th-century sculptural trinity of Mary, Saint Anne, and baby Jesus.
María Luisa Menéndez was tasked to restore the centuries-old statue for the village church of Ranadoiro in the northwestern Spanish region of Asturias. Maria gave the mother of God a turquoise veil and Saint Anne a not-so-strong makeup game. Jesus now looks like he wears a green Gucci jacket that Jared Leto loves.
Read more: Get an intimate look at the soon-to-come new MET Theater
It's a bold move for a first timer. Props to her for having the guts to put her artistic skills to the test. But if Jesus came back to Earth today and stumbled upon this, he might smite all of us from second-hand embarrassment.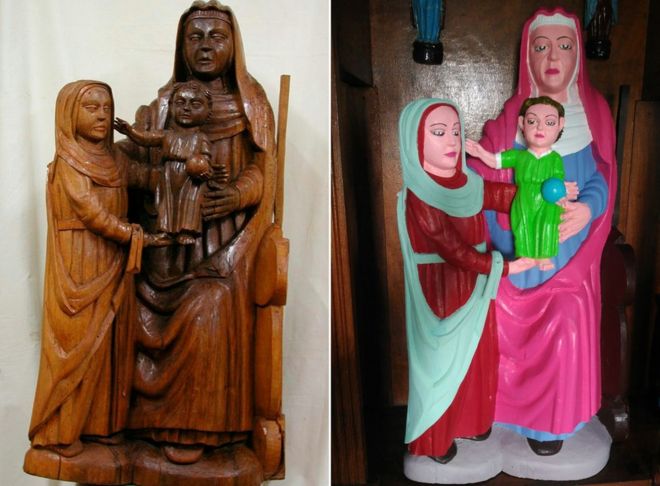 via AFP news
"I'm not a professional painter but I've always liked painting and the statues really needed painting," Maria told the Spanish news site El Comercio. Still, her sincere effort earned her flak.
Luis Suárez Saro, the artist who restored the statue 15 years ago, doesn't know how to react when asked about the botched follow-up.
"You don't know whether to laugh or cry," Luis said to The Guardian.
Now, I'm not a religious person nor do I claim to be. But let me say this—Jesus did not die on that cross to have someone depict him wearing a gaudy green tunic.
You know what's cool? Newsletters. Get exclusive updates on everything SCOUT through our newsletter. Sign up here. 
Still from Cities of the World
Comments