By Nico Pascual
Image: Vox, Photobucket and Sketchfab
3D Animation: Gabriel de Laubier
Rendering 2D cartoons into 3D models or animation has always been a tricky process. Recent examples like the Peanuts Movie, Garfield Movie, and The Adventures of Tintin have faithfully turned their source material into blockbuster films. But some people aren't used to seeing their favorite cartoons rendered that way on the big screen. Maybe it's the choice of animation, or maybe it's the way new technology has changed our perception of how these characters should be like.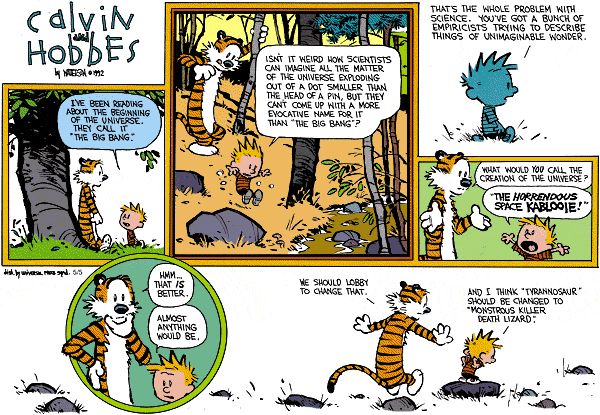 Visual artist Gabriel de Laubier tackled this challenge using a simpler method of 3D animation by turning Bill Waterson's Calvin and Hobbes comic strip into a 3D model. The comic strip he choose entitled "Big Bang" is one of the more famous examples of the series, as it deals with a humorous renaming of the Big Bang. When you view the panel, it feels like peering into a 3D diorama as it allows you to zoom and rotate the comic around.
I recommend that you click through the comic below and see for yourself how the animation is like. This method could start a whole new way of reading comics, as it literally allows you a closer look at the comics which held our imagination and forced us to think differently. Another option would be to go home and read your copies of Calvin and Hobbes in old-fashioned analogue format. Both are highly recommended.
Check the 3D comic out below:
Comments