Community's "The Darkest Timeline" script reading was everything a fan wants. It was directed by Jim Rash (Dean Pelton), had our fave study group back together again (except Chevy Chase) and it had cameos from Pedro Pascal (yes, the Mandalorian himself). 
This virtual script reading is some San Diego Comic Con wet dream. But if y'all gonna make us choose, the post-script reading Zoom reunion was our main highlight. 
In Ken Jeong and Joel McHale's "The Darkest Timeline" podcast, they set up a mini virtual reunion with our Greendale Seven (minus Pierce) with Jim Rash, Ken Jeong and the show's creator Dan Harmon. Yes, even Donald Glover was there. We know—we can't believe it too. 
The podcast gave fans a close glimpse of what the show really meant to its cast and crew. "What we made was so hilarious and I'm just so happy we got to do it again," says Danny Pudi (Abed Nadir). "And doing this show, it was just a special time [in our life]."
They shared many anecdotes during their time together, from dancing in Halloween costumes at 3 a.m., to finding a possum in their prop closet. Plus, they talked about their reunion last year when Jeong was a Heineken happy drunk (yes, they still find time to hang out). The cast laughing and reminiscing over these memories reveal that the show played a big part in their lives.
What pulled our heartstrings the most is when Joel McHale, Alison Brie and Donald Glover talked about getting teary-eyed while rewatching some episodes.
"I got a lot more sentimental too. I think just having kids and losing people makes you more sentimental about life in general," shares Glover. He proceeds to talk about that one time when he recalled an inside joke from the cast, which he shared with his partner. After his partner asked him what it was about, he started tearing up.
Read more: The 'Community' cast is reuniting virtually (yes, with Donald Glover)
Quoting Troy Barnes: "I don't know what to do, my whole brain is crying!"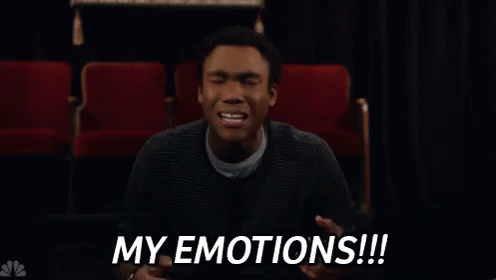 Read more:
7 'Community' episodes to watch as told by Greendale's study group
Rejoice Greendale Human Beings, 'Community' might actually have a movie
All 6 seasons of 'Community' are coming to Netflix. Can we get a movie, too?
Still from "The Darkest Timeline Podcast"
Comments